Welcome to The Cyber Trust
The Trust was founded in March 2017 as the opportunities and dangers of the digital revolution were becoming increasingly apparent. The vision of the Founders was to help children and vulnerable people access the digital world safely and securely and at the same time enjoy the benefits of the technology.
Initially our work focused on Gloucestershire with the support of the Police and Crime Commissioner, the Chief Constable and local schools and colleges. The style of the work comprised face-to-face interactive sessions with young people. Independent assessment indicated that the work was engaging and achieving its objectives.
After the launch the demands for support grew significantly and this has led the Trustees to pursue a different strategy but with the same objectives.
Working collaboratively, we decided to create and launch a new internet safety app known as "SpeakOut!" for Android and iPhone/iPad to be used in schools and more widely from 2021 onwards. This has been designed initially though not exclusively to meet the needs of young people from the ages of 10 to 14, a period of transition for many, with an initial focus on how to recognise and respond to Bullying, quickly supplemented by another storyline on Online Grooming. The App is developed  in collaboration with The University of Gloucestershire, and The Gloucestershire Constabulary, and we have rolled out and gained feedback from local schools such as Newent Community School and Sixth Form Centre, recent winners of a CyberFirst Gold Award.  Girlguiding Gloucestershire has also partnered with The Cyber Trust in  promoting internet safety to its young members across Gloucestershire. In the first quarter of 2021 we made the app widely available, and into Q4 we are developing additional story lines, such as Body Image, BLM and Checking facts (part of Fake News or Information Literacy topic).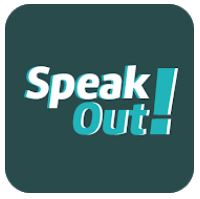 The app is available to users through the Google Play and Apple App Stores, as a simple download just like any other app (search for "SpeakOut! in the appropriate Appstore with the the above logo). We have also promoted the app through The Cyber Security Challenge's partnership with The National Crime Agency in Cybergames.
We are currently fundraising to develop the additional storylines and put in place better support, seeking sponsorship and donations from interested supporters of the project. Please contact info@thecybertrust.org, me or any of The Trustees if you would like a brochure – more information is on our fundraising pages.
Further apps and themes will be developed for specific, vulnerable groups and tailored to meet their needs.
We hope you will recognise the importance and value of this work. Please do not hesitate to make contact if you would like to sponsor or collaborate with us or have particular views to offer.
Janet Trotter
The Cyber Trust is a Charitable Incorporated Organisation, Registered Charity number 1171883


We would like to thank all of the brilliant organisations that have supported The Cyber Trust.