The Cyber Trust (a charitable incorporated organisation) was founded to help keep children and vulnerable people safe in an increasingly complex cyber world. A particular focus was seen to be Gloucestershire where collaboration had been particularly strong with the Office of the Police and Crime Commissioner and with the Chief Constable of Police. Initially the Trustees fulfilled these Objects by working primarily within Gloucestershire and in Secondary Schools. Such Face2Face work was popular and many requests have been and continue to be forthcoming. However, it was clear that demand was exceeding the available resource.
Following an evaluation of this work, the Trustees had a concern for some groups of young people who may not be easily able to access information via the Face2Face approach: we have in mind those with special needs and learning difficulties as well as those from particular demographic groups.
Working collaboratively, we decided to create and launch a new internet safety app known as "SpeakOut!" for Android and iPhone/iPad to be used in schools and more widely in 2021. This has been designed initially though not exclusively to meet the needs of young people from the ages of 10 to 14, a period of transition for many, with an initial focus on how to recognise and respond to Bullying, quickly supplemented by another storyline on Online Grooming. The App is developed  in collaboration with The University of Gloucestershire, and The Gloucestershire Constabulary, and we have rolled out and gained feedback from local schools such as Newent Community School and Sixth Form Centre, recent winners of a CyberFirst Gold Award.  Girlguiding Gloucestershire has also partnered with The Cyber Trust in  promoting internet safety to its young members across Gloucestershire. In the first quarter of 2021 we made the app widely available, and into Q2/3/4 we are developing additional story lines, such as Body Image, BLM and Checking facts (part of Fake News or Information Literacy topic).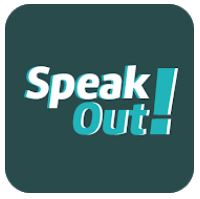 The app is available to users through the Google Play and Apple App Stores, as a simple download just like any other app (search for "SpeakOut!" in the smartphone searcher with the the above logo). We have also promoted the app through The Cyber Security Challenge's partnership with The National Crime Agency in Cybergames.
We are currently fundraising to develop the additional storylines and put in place better support, seeking sponsorship and donations from interested supporters of the project. Please contact info@thecybertrust.org, me or any of The Trustees if you would like a brochure – more information is on our fundraising pages.
Further apps and themes will be developed for specific, vulnerable groups and tailored to meet their needs.
Separately, we have assembled some resources that may be useful for schools, parents and others. This started during the various lockdown periods from 2020 into 2021 and beyond as schools have returned – as schools and after-school activities increasingly include cyber security and internet safety into things.
Former Relationship with Cyber For Schools
In December 2017 the pilot of Cyber4Schools® launched to deliver cyber awareness training to children and schools in Gloucestershire. Working in partnership with the The Cyber Trust, Cyber4Schools was working to help children stay safe online. Professor Richard Benham carried out the first online safety lesson with Year 7 pupils at Chosen Hill School in Gloucestershire.
The pilot's focus was on 11-year-olds, the typical age when smartphones give children their first unsupervised access to the Internet, and was supported by Gloucestershire Police, Gloucestershire County Council and Cyber Security Challenge UK Ltd. The vision was to provide a solution that helps all school children and citizens be cyber safer and help them to better protect themselves and encourage an open and honest culture where they feel comfortable ask for help and support each other. Technology is the way forward and we must arm our children with the skills to deal with the pitfalls and embrace what is good about technology in a safe and secure way.
In February 2018 alongside Cyber Security Challenge UK Ltd, we presented the then latest activities at "Shaping the future of education in Gloucestershire" to many of the region's head teachers and senior staff.
The Cyber for Schools pilot
Gloucestershire's Police and Crime Commissioner (PCC), Martin Surl, was the first PCC in the country to make cyber security a police priority. At the start of their lesson, the children were delighted to be presented with a CyberCitizen® for their school by Deputy Police and Crime Commissioner for Gloucestershire, Chris Brierley.
This life-size character created by Cyber4Schools®  provided the pupils with an appealing, visual reminder of the importance of being safe online. They then enjoyed a range of interactive activities, quizzes and a discussion about how to use mobile devices safely, with some fun facts and videos about staying safe online. They all received personalised certificates on completion of the course along with merchandise to re-inforce the messaging and learning.
Cyber for Schools Media coverage
Cyber for Schools received lots of media interest on their launch day. Journalists interviewed the Head of Chosen Hill School, Kirsten Harrison, and talked to the children. They also spoke to Chris Brierley, Deputy Police and Crime Commissioner for Gloucestershire, and Professor Benham. Press coverage included lots of local and national recognition along with exposure on National TV.
This links to the blog post from Gloucestershire's Office of the Police and Crime Commissioner: Cyber4Schools – a lesson in how to keep safe online
Why online safety education for children is important
The learning experience children enjoy nowadays has evolved rapidly, corresponding with the pace of technological change around them. They're digitally aware, jumping into the latest social media trends and sharing more personal information online than any previous generation. They take advantage of what the Internet has to offer, using it to build on their knowledge and expand their network of friendships. The Digital Childhood Report highlights a rapid increase in the number of young people between 10 and 12 using digital devices. But has their social maturity evolved at the same pace as the technology around them? And do they have the skills and knowledge to understand how to behave and stay safe online?
More and more people, including children, are falling victim to cyberbullying, cybercrime and exploitation. In its Childline Annual Reviews, the NSPCC continues to record increases in children and young people talking to Childline about online safety and abuse.
Baroness Beeban-Kidron's 5Rights Framework, and the Children's Commissioner in her report, Growing up Digital,identified the societal imperative to protect and safeguard our children online. Cyber4Schools® responded to this need, helping 11-year-olds to become informed cybercitizens, essential for a thriving future society and economy.
Cyber4Schools going forward
Cyber4Schools has been absorbed by UK policing  (ROCUs and the NPCC) into their own activities in this space.