We have assembled some resources that may be useful for schools, parents and others. This started during the various lockdown periods from 2020 into 2021 and beyond as schools have returned – as schools and after-school activities increasingly include cyber security and internet safety into things.  This is not by any means a comprehensive listing and is not limited to cyber, nor is it an endorsement, but things we have come across or used that we have found helpful and interesting.  New ideas for this section are welcome – just get in touch through info@thecybertrust.org
Internetmatters.org have online safety resources for teachers through their safety resource hub to access a range of information for use in the classroom and to help parents make positive changes to children's digital lives. Includes a parent pack for teachers and lots of presentations. https://www.internetmatters.org/schools-esafety/
You can always look here if you want a break from cyber!
Free home schooling resources from museums & heritage sites – A THREAD: https://twitter.com/thatmuseumgirl_/status/1348635325216792581
Virtual library gives children in England free book access – https://www.bbc.co.uk/news/education-55692137  Internet classroom Oak National Academy created the library after schools moved to remote learning for the majority of pupils until February half-term.
Meanwhile, on and related to cyber, not in any particular order:
Sync NI – Free cybersecurity courses for NI children aged 11-14
Thinkuknow is the education programme from NCA-CEOP, a UK organisation which protects children both online and offline. Explore one of the six Thinkuknow websites for advice about staying safe when you're on a phone, tablet or computer. https://www.thinkuknow.co.uk/
Cyber Security Challenge UK – Visit Cyberland and try the demo or jump straight in to this series of fun, interactive online games that help teachers and after school club leaders introduce key concepts in cyber security.  https://cybergamesuk.com/
Broadbandsearch.net have come up with "17 Rules to Protect My Child Online" on internet safety for kids which is well worth a look https://www.broadbandsearch.net/blog/internet-safety-kids
Do you know a future Doctor, Programmer or Engineer? Why not put their skills to the test with 22 exciting and educational packs from CGI's #STEMfromHome programme! STEM from Home | CGI UK
Cyber Choices: is from The National Crime Agency (NCA) helping you choose the right and legal path:  https://nationalcrimeagency.gov.uk/what-we-do/crime-threats/cyber-crime/cyberchoices
TechUK: Resources to stay connected and improve digital skills amid COVID-19 – in particular look at the support now available from telcos for remote education: https://www.techuk.org/resource/telecoms-support-for-remote-education-connectivity-and-digital-skills.html
Natterhub – Innovative Online Safety and digital literacy tool, Y1-Y6.  Free access extended to 12 February 2021
100 Things to do Indoors https://www.spreadthehappiness.co.uk/product/100-things-to-do-indoors/ 
Safer Internet Day 2021 will be on 9 February 2021, with the theme "An internet we trust: exploring reliability in an online world
Barclays UK:  The latest Code Playground Live session; a free lesson teaching kids how to code, hosted by the @Digitaleagles  –   https://barc.ly/2QxGNqm
Cyber Security Challenge UK – Schools Programme Information including Lesson Plans
Cyber Crisis, a board game that educates and raises awareness of cyber security, whilst bringing the whole family together. Created by one of the finalists in Cyber Centurion VI.
HUMBLE BOOK BUNDLE: Includes resources for kids on coding, sometimes with free offers https://www.humblebundle.com/
Udemy is an online learning and teaching marketplace with over 100,000 courses and 24 million students. Learn programming, marketing, data science and more. Lots of good content and fairly cheap.
Get Safe Online site contains a wealth of useful information.
Cynja – from ISACA: CynjaSpace is a revolutionary internet security app combining the safety, control, and activity reports parents need, with the fun and freedom of using the web and chatting with friends that kids want.
On Coding, Scratch is good for the younger ones – a free programming language and online community where you can create your own interactive stories, games, and animations.
Possibly Python for the older ones – some start before age 11 – Python is a programming language and can be used on a server to create web applications.
Also on Python, the Science, IT and Engineering job board at Jobtensor has built a tool for learning Python on https://jobtensor.com/Python-Introduction. They created this tool because they have many tech users on their site who want to improve their programming skills.
AQA Lesson Plans for GCSE Computer Science – includes Fundamentals of Cyber Security 
South East Regional Organised Crime Unit's Cyber Choices team have developed a lesson plan which aims to teach the Computer Misuse Act and highlight career opportunities in Cyber Security. This lesson plan is intended for Key Stage 3 – Years 7 and 8.  Scroll down the link for the various materials:  https://serocu.police.uk/champions/
Not cyber but interesting!  easyJet have launched 'Flightsize' lessons – a collection of online video lessons, to support parents across the nation still juggling home-working and home-schooling. The six Flightsize lessons below can all be found on the easyJet YouTube channel – https://lnkd.in/d_-4qTe
– How Planes Fly
– Why is Weather Important?
– How Do You Turn a Plane On?
– How do Pilots Know Where They Are Going?
– Outside Parts of An Aeroplane
– The Inside of An Aeroplane
Global Cyber Academy https://www.globalcyberacademy.com
Canadian site https://cemc.uwaterloo.ca/contests/past_contests.html#bcc.
There are 'past contests' and full solutions for Canadian years 5/6 and years 7/8 (UK equivalent years 5.5/6.5, etc). This site is available publicly and comes out of the University of Waterloo's Centre for Education in Maths and Science
Royal Institution computing courses for beginner/adults – pages of web links and lots for children
OU – many free MOOCS on cyber
Various: (the links are in a list below these images)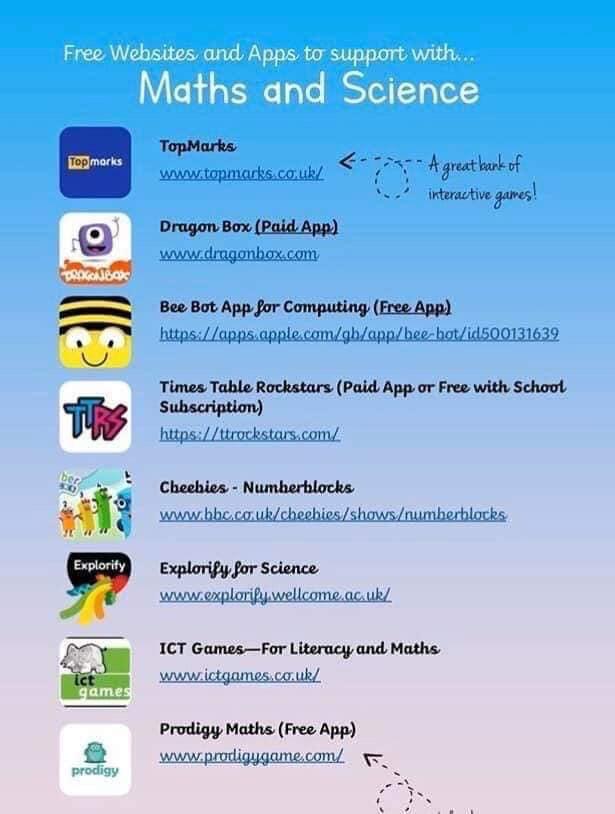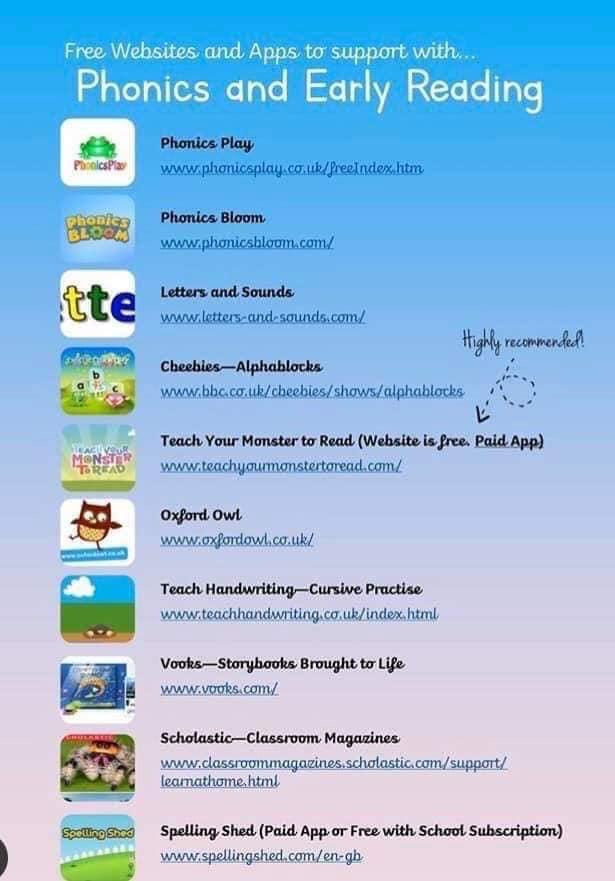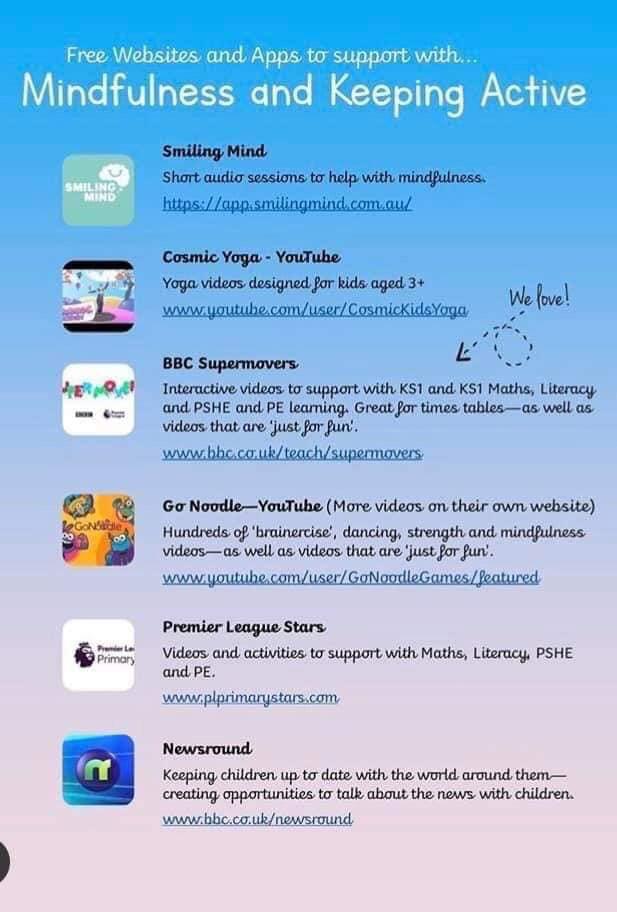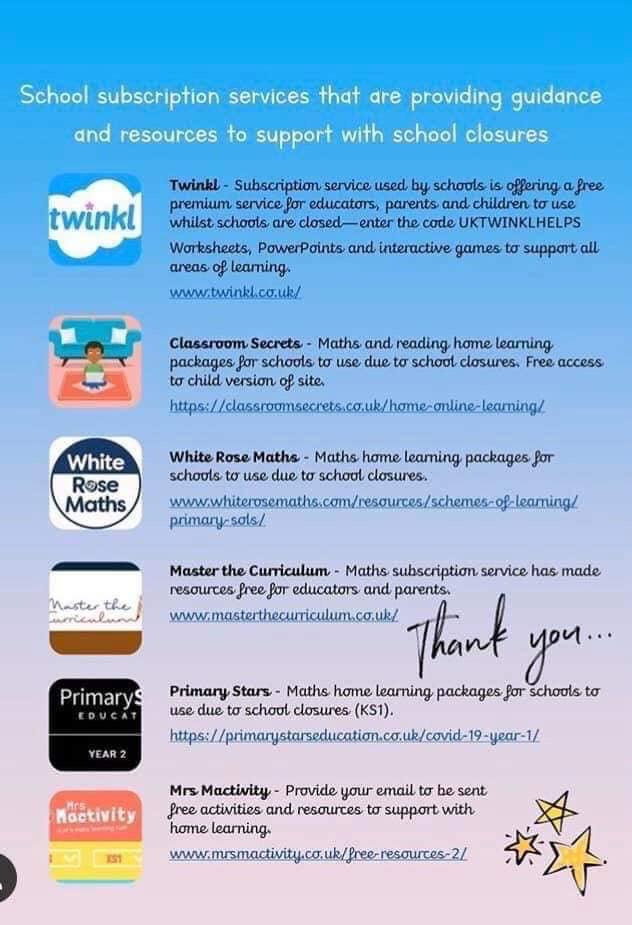 FREE WEBSITES AND APPS TO SUPPORT WITH MATHS AND SCIENCE
Top Marks – www.topmarks.co.uk
Dragon Box (Paid App) – www.dragonbox.com
Bee Bot App for Computing (Free App) – https://apps.apple.com/gb/app/bee-bot/id500131639
Times Table Rockstars (Paid App) – https://ttrockstars.com
Cbeebies – Numberblocks – www.bbc.co.uk/cbeebies/shows/numberblocks
Explorify for Science – www.explorify.wellcome.ac.uk ICT Games – For Literacy and Maths – www.ictgames.co.uk
Prodigy Maths (Free App) – www.prodigygame.com
SCHOOL SUBSCRIPTION SERVICES THAT ARE PROVIDING GUIDANCE AND RESOURCES TO SUPPORT WITH SCHOOL CLOSURES
Twinkl – Subscription service used by schools is offering a free premium service for educators, parents and children to use whilst schools are closed. Worksheets, PowerPoints and interactive games to support all areas of learning. www.twinkl.co.uk
Classroom Secrets – Maths and reading home learning packages for schools to use due to school closures. Free access to child version of site. https://classroomsecrets.co.uk/home-online-learning/
Espresso – Interactive games, videos and information to support all curriculum areas. www.discoveryeducation.co.uk
White Rose Maths – Maths home learning packages for schools to use due to school closures. https://whiterosemaths.com/resources/schemes-of-learning/%20primary-sols/
Master the Curriculum – Maths subscription service has made resources free for educators and parents. www.masterthecurriculum.co.uk
Primary Stars – Maths home learning packages for schools to use due to school closures (KS1). https://primarystarseducation.co.uk/covid-19-year-1/
Mrs Mactivity – Provide your email to be sent free activities and resources to support with home learning. www.mrsmactivity.co.uk/free-resources-2/
Classroom Secrets – Maths and reading home learning packages for schools to use due to school closures. Free access to child version of site. https://classroomsecrets.co.uk/home-online-learning/
MINDFULNESS AND KEEPING ACTIVE
Smiling Mind Short audio sessions to help with mindfulness https://app.smilingmind.com.au
Cosmic Yoga Yoga videos designed for kids aged 3+ www.youtube.com/user/cosmickidsyoga
BBC Supermovers Interactive videos to support with KS1 and KS1 maths, Literacy, PHSE and PE Learning. Great for times tables as well as videos that are 'just for fun' www.bbc.co.uk/teach/supermovers
Go – Noodle – Youtube (More Videos on their Website) Hundreds of 'braincercise' , dancingstrength and mindfulness videos – as well as videos that are 'just for fun' www.youtube.com/user/gonoodlegames/featured
Premier League Stars Videos and activities to support with Maths, Literacy PSHE and PE www.plprimarystars.com
Newsround Keeping children up to date with the world around them – creating opportunities to talk about the news with children www.bbc.co.uk/newsround
PHONICS AND EARLY READING
Phonics Play – www.phonicsplay.co.uk/freeIndex.htm
Phonics Bloom – www.phonicsbloom.com Letters and Sounds – www.letters-and-sounds.com
Cbeebies-Alphablocks – www.bbc.co.uk/cbeebies/shows/alphablocks
Teach your monster to read (Website is Free – Paid App) – www.teachyourmonstertoread.com
Oxford Owl – www.oxfordowl.co.uk
Reading Teach Handwriting – Cursive Practice – www.teachhandwriting.co.uk
Vooks – Storybooks brought to life – www.vooks.com
Scholastic – Classroom Magazines https://classroommagazines.scholastic.com/early learning.html
Spelling Shed (Paid App) – www.spellingshed.com